It's National Drive-Thru Day!
National Drive-Thru Day, July 24th
Friday is National Drive-Thru Day and it recognizes an innovation conveniently going strong today. The drive-thru reached its peak in the 1950s but stayed strong through the 60s, 70s and beyond. People have enjoyed this service since the 1930s.
The ease of dropping off or picking up an item without getting out of the car is definitely not something we take for granted during the pandemic.
Fun fact, in 2018, Chic-fil-A mastered this arena with 97.3% accuracy.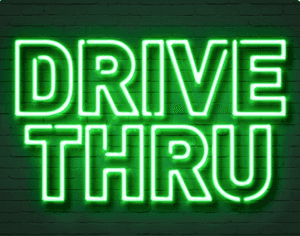 Did you know:
There are more than 198,337 fast-food restaurants in the United States.
The drive-thru format was pioneered in the United States for banking services.
Hamburgers at McDonalds sold for just 10 cents in the drive thru. (1948)
Restaurants, coffee shops, pharmacies, and many more services utilize drive-thrus for quick service.
Cup holders were once a rarity in auto interior design, but by the late 1980s it was common for cars to feature more cup holders than passengers.
We know that you can't wait to take your Honda through a drive thru so here's how to score some deals from your favorite take-out joints.
Arby's: Sign up for email coupons including a birthday freebie
Burger King: You can have it your way with coupons available on their mobile app
Chick-fil-A: Earn free food (and shakes) by using their app
Dairy Queen: Download their app, register an account, and get a free small Blizzard
Dunkin' Donuts: Earn free drinks with the DD Perks rewards program, and get a birthday freebie
Krispy Kreme: The doughnut giant is another company that offers free stuff through their app
McDonald's: Lovin' those freebies? McDonald's has them on their app too
Panera Bread: Join their loyalty program and use your My Panera card for discounts and free treats
Starbucks: Coffee lovers can earn free drinks with the Starbucks Rewards program and get perks like free in-store refills and a birthday freebie
Taco Bell: Register an email address to get offers. You can also save on drinks and freezes during Happy Hour
Wendy's: App users can get free chicken fingers for a limited time
Zaxby's: Join Zax Clubs for discounts and deals