How Often Should You Rotate Your Tires?

Routine tire rotation is one of the best ways to ensure that your vehicle is safe and that your tires will last as long as possible on the roads in and around Alpharetta. So, how often should you rotate your tires? The certified service technicians at the Lou Sobh Honda Service Center recommend that you have your tires rotated every 5,000 to 7,500 miles. That being said, it's always a good idea to check your owner's manual to find the tire rotation schedule for your specific vehicle. Learn more from our experts, and if you are due for a tire rotation, schedule a service appointment with us online.
Rotating Tires on FWD and RWD Vehicles
Most of the vehicles in the new Honda lineup are either front-wheel drive or rear-wheel drive. What does that mean? It's pretty simple and stratforward. Front-wheel drive indicates that the engine power is delivered to the front tires, while rear-wheel drive means that the power is sent to the rear tires. The tires that receive direct engine power tend to experience tire tread wear faster than the others. Rotating the tires helps to ensure that they will wear evenly. With either a FWD or RWD vehicle, keep the following tire rotation tips in mind:
With either FWD or RWD cars, tire rotation should be performed every 5,000 to 7,500 miles, but consult your owner's manual for the manufacturer's recommendation.
When performing a FWD tire rotation, the rear tires will need to flip sides when they are moved to the front. For example, the rear right tire will go on the front left and the rear left tire on the front right. When moving the front tires to the back, keep them on the same side.
To rotate tires on a RWD car, invert the process above. Flip sides when moving the front tires to the back, but keep the rear tires on the same side when moving them forward.
Tire rotation for FWD and RWD vehicles should be performed every 5,000 to 7,500, but keep in mind that how many miles to rotate tires depends on how and where you drive. The service professionals at Lou Sobh Honda can help you determine a tire rotation and maintenance schedule that fits your driving habits.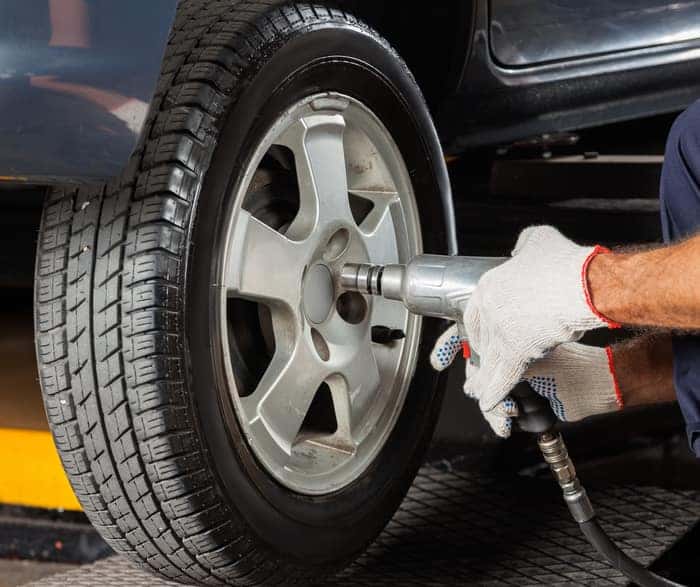 AWD Tire Rotation Tips
How many miles before to rotate tires on an AWD Honda? Since all tires can be engaged by the engine, each tire will wear down differently and at different speeds. It is generally recommended that you should have the tires on an AWD vehicle rotated every 3,000 to 5,000 miles. Again, check your owner's manual to get specifics. If you don't remember the last time you performed a tire rotation, our service team will inspect your tires to see if you're due for a rotation.
Why Rotate Tires?
Knowing how many miles you can drive before a tire rotation will help to keep you safe on Dawsonville-area roads and highways. It will also help to extend the lifespan of your tires. Other benefits of routine tire rotations include:
Reduced stress on the drivetrain
Improved traction on slippery roads
Less noise from the wheels and tires when driving
Drivers from Gainesville and beyond will enjoy a smooth and safe driving experience and have their tires last longer if they make sure to keep up to date on their tire rotation schedule.
Get Expert Tire Care and More at Lou Sobh Honda
The technicians in the Lou Sobh Honda Service Center are standing by to help take care of all of your Honda maintenance and repair needs. From routine tire rotations and oil changes to brake replacement and major repairs, we do it all. We also offer service specials and coupons to help you save on your next Honda service. If you have any questions, feel free to contact our Service Center.
More from Lou Sobh Honda
Thanks to a 3.5L V6 engine able to deliver up to 280 hp and 262 lb-ft of torque, the 2021 Honda Ridgeline towing capacity is impressive across all models. If you're looking for a pickup truck that delivers go-anywhere capability and workhorse power alongside innovative new features, the Ridgeline definitely deserves a test drive….

Each Honda model delivers a wide range of exciting features and handy specs to make life on and off the road easier. One such feature is the trusty Honda key fob. This small device offers keyless access and other safety and convenience features. While the Honda key fob is designed to have your back, eventually,…

If you've had a chance to see the energetic new Honda CR-V on the Alpharetta streets, it's easy to understand why this model is such a popular choice among local drivers. With excellent fuel economy, advanced safety features, and endless connectivity specs, every Dawsonville drive is a breeze when you're behind the wheel of the…