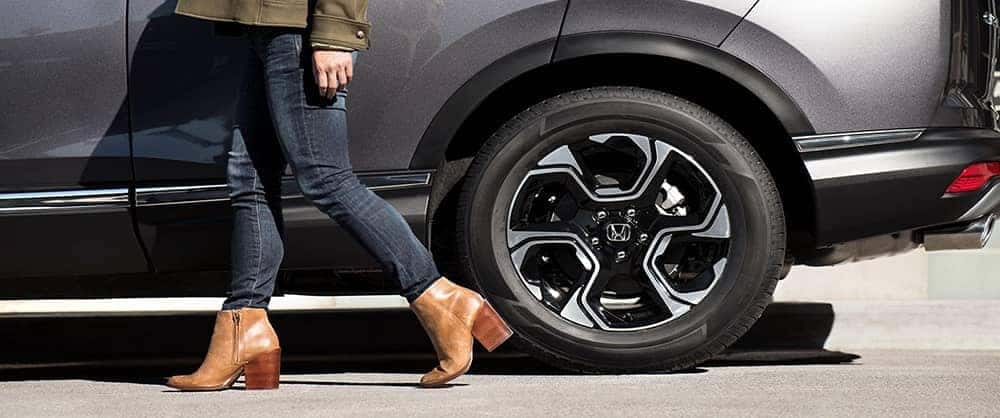 ---
Since your car tires are in constant contact with the road, it is crucial that you make sure that they are always in good condition. An important part of keeping your drives in and around Alpharetta safe is to routinely check the tire tread depth. So, you may be asking, "How do I check tire tread wear?'' This guide from the certified technicians in the Lou Sobh Honda Service Center will teach you how to check your tire tread depth.
What is the Recommended Tire Tread Depth?
New tires start with a tread depth of 10/32" to 11/32". If they wear down to 2/32" or less of tread depth, it's time to replace them. Off-roading tires, winter tires, and some truck and SUV tires have deeper treads and may need to be checked and replaced more often.
Driving around Gainesville on bald or balding tires increases the chance that you'll get a flat tire or blowout, which can be especially dangerous if you are traveling at high speeds on the highway.
The Penny Test
How do you check your tire tread depth? There are tire tread depth gauges available, but if you don't have one, you can use the penny test. Here's how to check your tire tread depth with a penny:
Insert a penny with Lincoln's head upside down and facing you into a tire tread groove.
Check if Lincoln's head is covered and no longer visible between the grooves.
If Lincoln's head is covered by the tread, then you have enough tread depth remaining.
If you can see all of Lincoln's head, then your tire treads are 2/32" deep or less, and it's time to get a new tire.
Use this test on all four tires and in different locations on each tire to ensure that they are wearing evenly. If some tires are more worn than others and the tread depth isn't too low, then you should have your tires rotated to even out the tread wear.
Some tires come with tread wear indicator bars that show when the tread has worn down. They are located at the bottom of the tread grooves in several locations on the tire. When the bars are flush with the tread it means that there is 2/32" or less tread remaining.
Get Expert Tire Care at Lou Sobh Honda
Still wondering, "How do I check tire tread wear?" The service team at Lou Sobh Honda is here to help answer all of your car maintenance questions. Our technicians are available to inspect your tires, as well as perform any needed tire care services such as tire rotation, balancing, or wheel alignment. Need new tires? Our Tire Center in Cumming has a great selection of competitively priced tires from all of the major brands. Make sure to check out our service specials to save on everything from oil changes to brake repair. If you have any questions, please don't hesitate to contact our Service Center.
Learn More With Lou Sobh Honda
Thanks to a 3.5L V6 engine able to deliver up to 280 hp and 262 lb-ft of torque, the 2021 Honda Ridgeline towing capacity is impressive across all models. If you're looking for a pickup truck that delivers go-anywhere capability and workhorse power alongside innovative new features, the Ridgeline definitely deserves a test drive….

Each Honda model delivers a wide range of exciting features and handy specs to make life on and off the road easier. One such feature is the trusty Honda key fob. This small device offers keyless access and other safety and convenience features. While the Honda key fob is designed to have your back, eventually,…

If you've had a chance to see the energetic new Honda CR-V on the Alpharetta streets, it's easy to understand why this model is such a popular choice among local drivers. With excellent fuel economy, advanced safety features, and endless connectivity specs, every Dawsonville drive is a breeze when you're behind the wheel of the…